Letter from Eliza to her Son Henry - Part I
October 13 2014 |
News
This June 9, 1949 letter was written by Eliza Quitman to her son, Henry, during a time when Cholera was ravaging the country. I thought about the diseases our country's facing today, and it would seem there's always some new disease attacking humanity - until humanity finds the means necessary to cure or control it. You can always come visit the Eliza Quitman Suite to take a break from the world.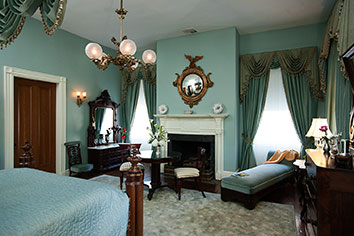 Monmouth June 9th 1849
My dear Son
Your long expected letter to me arrived last evening. It found me suffering under one of my sick headaches, which this morning is relieved. It is the only one that I have received since early in April. I had almost come to the sad conclusion that my only son had quite forgotten the existence of such a being as his Mother, but you say that you have written several times within that period so we will conclude the mails are altogether to blame. You must especially perceive from the papers that the Cholera has made its appearance in N. York and Philadelphia. It has prevailed most fearfully in N. Orleans and all along the river plantations, whilst Natchez and neighbourhood has been entirely healthy. It seems as an especial protection from our gracious and heavenly Father. On Uncle Henrys part of Palmyra it was exceedingly bad. On our part there was not a single case. Springfield too has escaped, whilst it was directly opposite on the plantations up and down the river, Live Oaks also kept well whilst the disease raged fearfully at Thibodeaux and Houma. My dear Henry keep out of the way of this dread disease if possible. I think you had better not travel about as you had intended as the cholera is prevailing all along the rout you would take. If you sho0uld ever feel the slightest symptom of it take camphor and a good dose of No. 6, if that does not cure take Dr. Cartwright's prescription which is the only one which has proved universally successful and which all who used others remedies were obliged at last to resort to. It is this
20 grs. Hudrargus cum creta, or chalk mercury
20 grs. Red petter
15 do. Charcoal
15 do. Gum Arabic
10 do. Gum Camphor
The above mixture forms on full dose for an adult to be mixed in the form of a powder in a little cold water and to be given as soon as mixed. I will have the directions copied and you may give them to Professor McLean or whomsoever you may think would be likely to do the most good with it. The Chalk Mercury is given in place of Calomel because the Calomel is apt to be sometimes not pure and will salivate, if the Calomel is good and pure it is the same as chalk mercury being calomel is its purest form. May God preserve you is the daily prayer of your Mother.