March 12 2015 |
News
How interesting it is to glimpse into General Quitman's career by taking an excerpt from the booklet "Monmouth: Its Majesty and Legacy." He was indeed someone this property is proud of. Until next time - happy travels!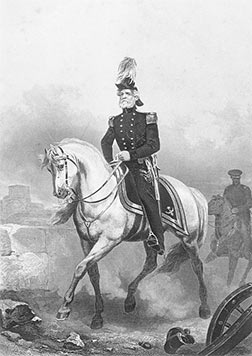 John Quitman's interests and talents were far ranging. He practiced law in partnership with John McMurran, owned slaves and cotton plantations, led an active political life, and participated in a host of civic and military activities. He served as a leader in the statewide anti-dueling society and as a Grand Master in the Masonic Order. He also made his mark as president of a railroad company, bank director, and steamboat company director. He raised and captained a well-known local militia company, the Natchez Fencibles, and served as a general in the state militia. In 1836, he participated in the Texas Revolution as commander of a small company of volunteer Mississippians, joining Sam Houston after the Battle of San Jacinto, convincing Houston not to try Santa Ana, because he was president of a sovereign nation.
The Mexican War made Quitman a legend. Before it began, he had persuaded President James K. Polk to commission him as a brigadier general of volunteer troops. In September 1846, Quitman boldly led his men through the streets of Monterrey, Nuevo Leon, Mexico, under heavy fire. The president promoted Quitman to major general in the regular army (only George Washington – a lieutenant general – had held a higher rank), and Congress recognized his heroism with a special sword.
Within a year, Quitman set out in the conquest of Mexico City. Commanding a combined force of volunteers, regulars and U.S. Marines, General Quitman stormed Chapultepec Castle, a nearly impregnable military academy set high above the city. Without any rest, the troops then rushed the capital city itself. During combat, Quitman waved his red silk handkerchief as a signal to charge over a heavily defended gate and into the city. After a decisive defeat by American troops, the Mexican defenders surrendered. The victory enabled the United States to win the war, and Major General Winfield Scott, Commander of the American Forces, appointed Quitman governor of the conquered capital. As the war ended, Quitman worked on a plan to annex Mexico as part of the United States.
The number and variety of elected offices and positions that John Quitman held at one time or another staggers the imagination: U.S. Congressman and Chair of the important House Committee on Military Affairs, candidate for vice-presidential nomination at two national conventions, a two-time Mississippi governor, state representative and state senator, and chancellor of the state judiciary. It didn't take Quitman long to amass a substantial fortune, partially as a partner in one of Mississippi's more lucrative legal practices, and through the acquisition of several cotton and sugar plantations.