November 11 2014 |
News
I'm delighted to post an Interview with one of our guests' favorite employees - Rooms and Group Travel Manager, Christy Waggoner today. Please be sure to look Christy up when you stay here!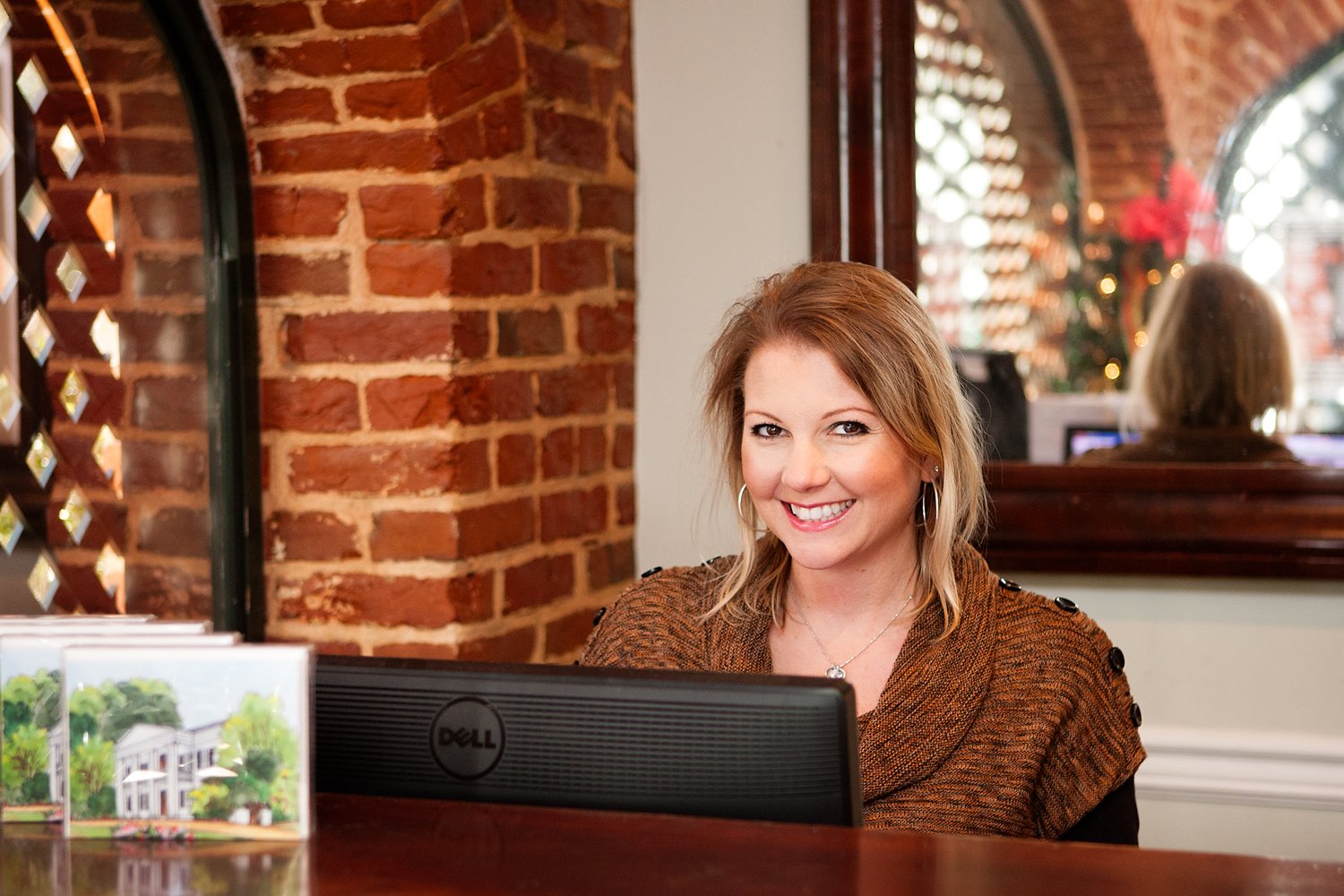 Q: How long have you been with Monmouth?
A: Four and one-half years.
Q: What led you to working at Monmouth?
A: I worked at a nursing facility as the Admissions and Marketing Coordinator but was looking for something completely different. Not really finding much that was offered, I accepted a position at a different nursing facility as the Social Service Director. I got a call from Richie at Monmouth, wanting to set up an interview with me –and I thought to myself, just go and see what it is about…. Needless to say I made a HUGE career change and have been in love with Monmouth ever since.
Q: What are the various positions you've held at Monmouth over the years?
A: Reservation Specialist, Gift Shop Manager, Wedding Coordinator, Sales and Events Manager, and Rooms Manager
Q: What's the best part about being the Rooms and Group Travel Manager at Monmouth?
A: Getting to know all the repeat Travel groups, as well as ones visiting for the very first time! They are all great, and I enjoy sharing this hidden jewel we so fondly call "Monmouth"!
Q: What's the best part about Restaurant 1818 and what's your favorite dish?
A: It's the only restaurant in Natchez where you can actually dine in an Antebellum Home! I haven't had anything I didn't like. But the Fried Green Tomatoes are AMAZINGLY delicious, as is the Duck.
Q: What's the best part about the Quitman Lounge and what's your favorite dish?
A: Previously General John Quitman's bedroom, the Quitman Lounge is a great place to relax and enjoy a drink and a casual meal. Roosevelt is famous for his secret Mint Julep recipe (which the groups especially love) and George makes a great Bloody Mary. My favorite dish is Mike's fried chicken. Just downright southern and delicious.
Q: What's your favorite breakfast item in the Garden Room?
A: The full southern breakfast with a serving of it all! Mrs. Mary's grits are always a great way to start my day. Guests rave about those grits, even the ones that claim they never liked grits before.
Q: What's your favorite part about Events and Weddings at Monmouth?
A: Events are a great way to let people know about Monmouth. The weddings are beautiful and the start of a new beginning. Seeing the bride and groom, standing there repeating their vows always brings me back to the day my husband and I repeated our vows 14 years ago. That makes me feel the "happiness" all over again.
Q: What's your fondest memory at Monmouth?
A: This may sound crazy, but the snow this past year was amazingly beautiful. We don't see snow much at all in Natchez, and seeing it blanketed over the gardens was such a flawless view.
Q: What's your favorite spot at Monmouth?
A: I love to walk through the Rose Garden to the Pergola. It's such a breathtaking view, especially during springtime.
Q: What's your favorite room/suite at Monmouth and why?
A: The Plantation Suites #42. My husband and I stayed there for our 10th year anniversary. It opens outside to a patio area overlooking the grounds.
Q: What are some of the most frequently asked questions from guests and what are your answers to them?
A: Most guests seem to know what homes they should see in Natchez. Of course, I'm partial to Monmouth, so that's my first suggestion if they haven't taken our tour yet. All the homes are historically beautiful and unique in their own way, for instance, Longwood is Octagonal in shape and was never finished.
Q: What's your favorite thing about Natchez?
A: I'm a born again Natchezian is what I like to tell our guests! I'm originally from Texas and moved here in 1989. I love the fact that I can pretty much be anywhere I need to get to in about 20 minutes. It's a small town where everyone knows someone who knows someone who knows someone! No interstates or bumper-to-bumper traffic. However, you can easily get into bumper-to-bumper traffic if you really are feeling that urge! Baton Rouge is about 1 hour and 45 minutes away, and Jackson is about 2 hours away.