Beautiful Ansonia Clock
June 25 2014 |
News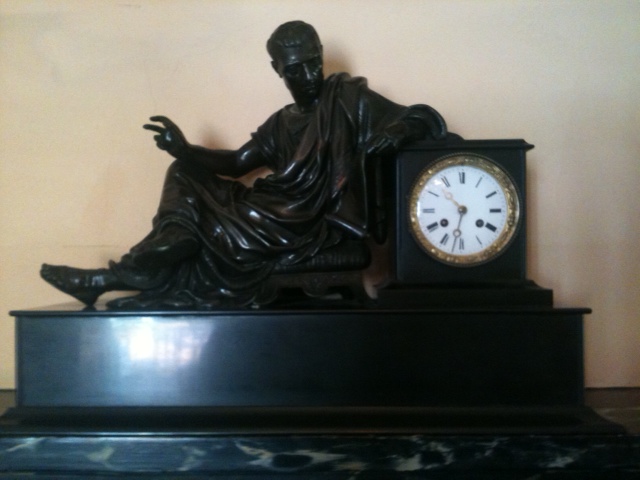 Ansonia Clock
The beautiful clock in the Quitman Study is an Ansonia Clock made in Ansonia, near Cleveland, Ohio. This one features, possibly, what one might call a "deep thinker." Ansonia was named for Anson C. Phelps who caused the Ansonia Brass Co. (part of the Phelps Dodge Co.) to be built here. Phelps founded the Ansonia Clock Company in Derby, Connecticut in 1850. An importer of tin, brass, and copper in the Eastern section of the states, he already owned a copper mill. Phelps maintained considerable financial baking, as well as contacts and knowledgeable business associates in his venture.
It is probable from the clocks and data now available that even from the very start two firm names were used. Ansonia Clock Co. was one, and Ansonia Brass & Clock Co. was the other; both marked "Ansonia, Conn."
The Ansonia Company was best known for its decorative imitation gold, and ornate novelty clocks. Petulant cupids and angels, deep thinkers, athletes, babies and languid ladies drape and adorn the ornamental designs that characterize the name and products of Ansonia. Ansonia clocks proved to be good and saleable.
A store or outlet in Boston is mentioned in the city's 1854 Directory with the Ansonia Clock Co. name at 43 Hanover Street
The Ansonia Clock Company prospered until about 1859 when the volume of business justified the separation of the clock and brass companies. Spring wound shelf clocks of many patterns were the principal type of clock produced, although an occasional ogee weight driven with the Ansonia label has been reported. Regulator wall clocks were also made.